---
---
VEVOR Stackable Drill Bit Dispenser Organizer Cabinet 3 Pieces Kit 3/5-Drawer Workshop Hardware Auto Car Maintenance Storage Box
Three Pieces Drill Bit Dispenser Cabinet
Our drill bit organizer set holds multiple drill bits in sizes 1/16"-1/2" / A to Z / #1-60. The classified storage IDs provide quick identification, and steel material supports high loading strength. Keep your tools dust-free and neatly organized with these stackable storage cabinets. 
Efficient Storage Organizer
Sturdy Material
User Experience
Stackable System
Cohesive Organizer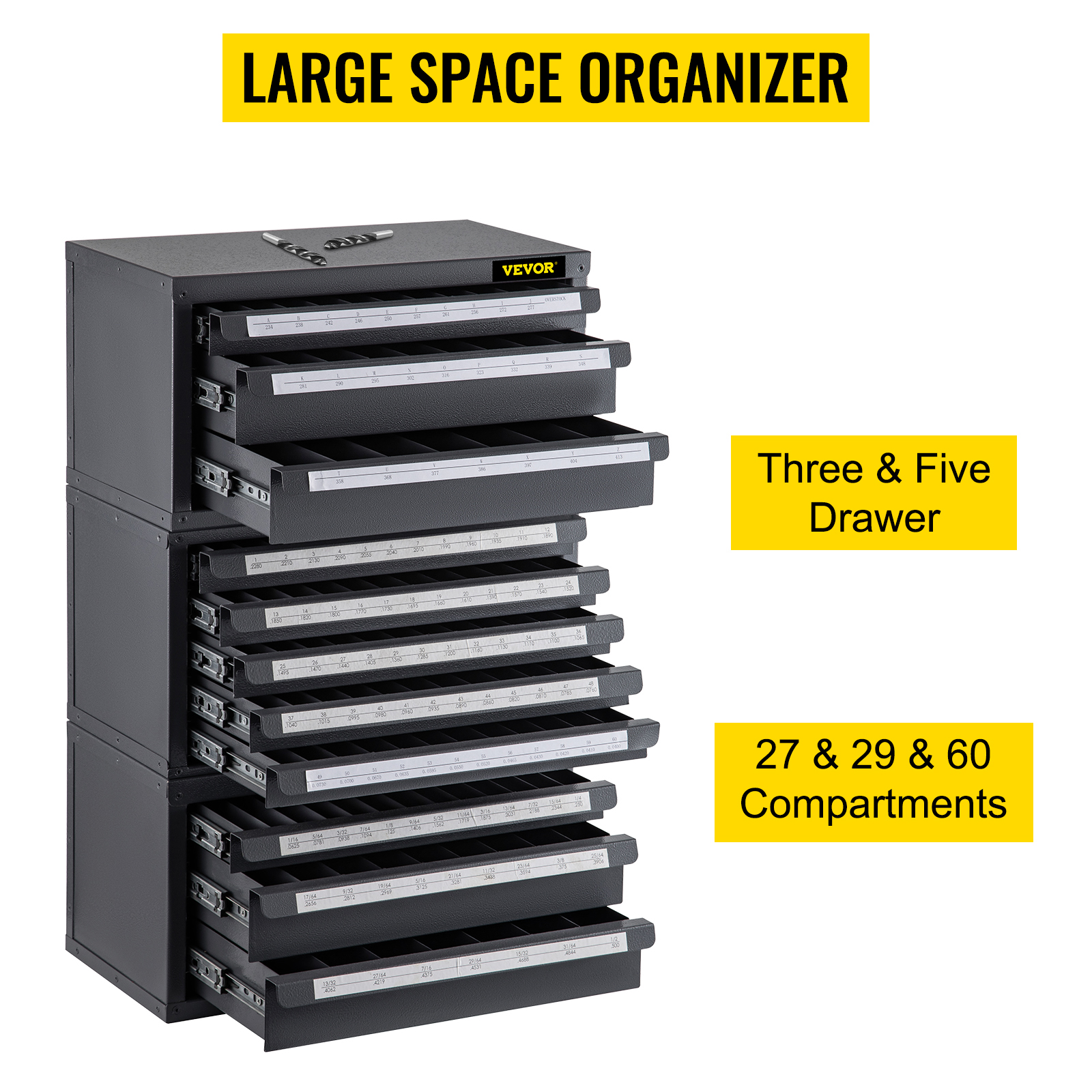 One three-drawer 29-compartment cabinet holds 1/16"-1/2" in 1/64" increments. One three-drawer 27-compartment cabinet holds letter sizes A to Z. One five-drawer 60-compartment cabinet holds wire gauge sizes #1-60. Fill them with multiple bits for easy access. They create a cohesive look in a busy cabinet.
Easy Identification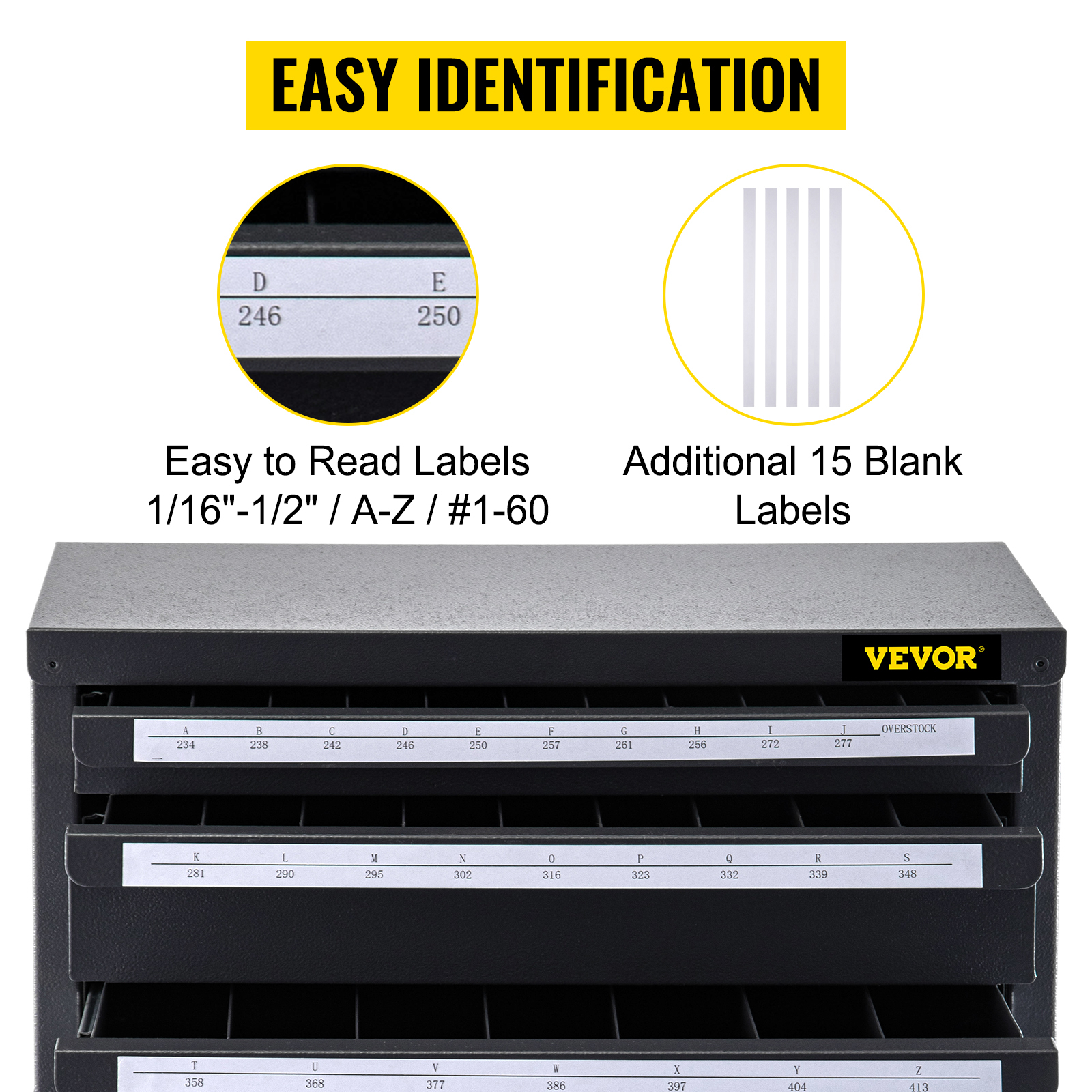 Easy to read, permanent, and durable ID strips show drill bit sizes. Index labels are sorted to improve work efficiency. We also offer additional 15 blank labels for your individual classification use.
Cold-Rolled Steel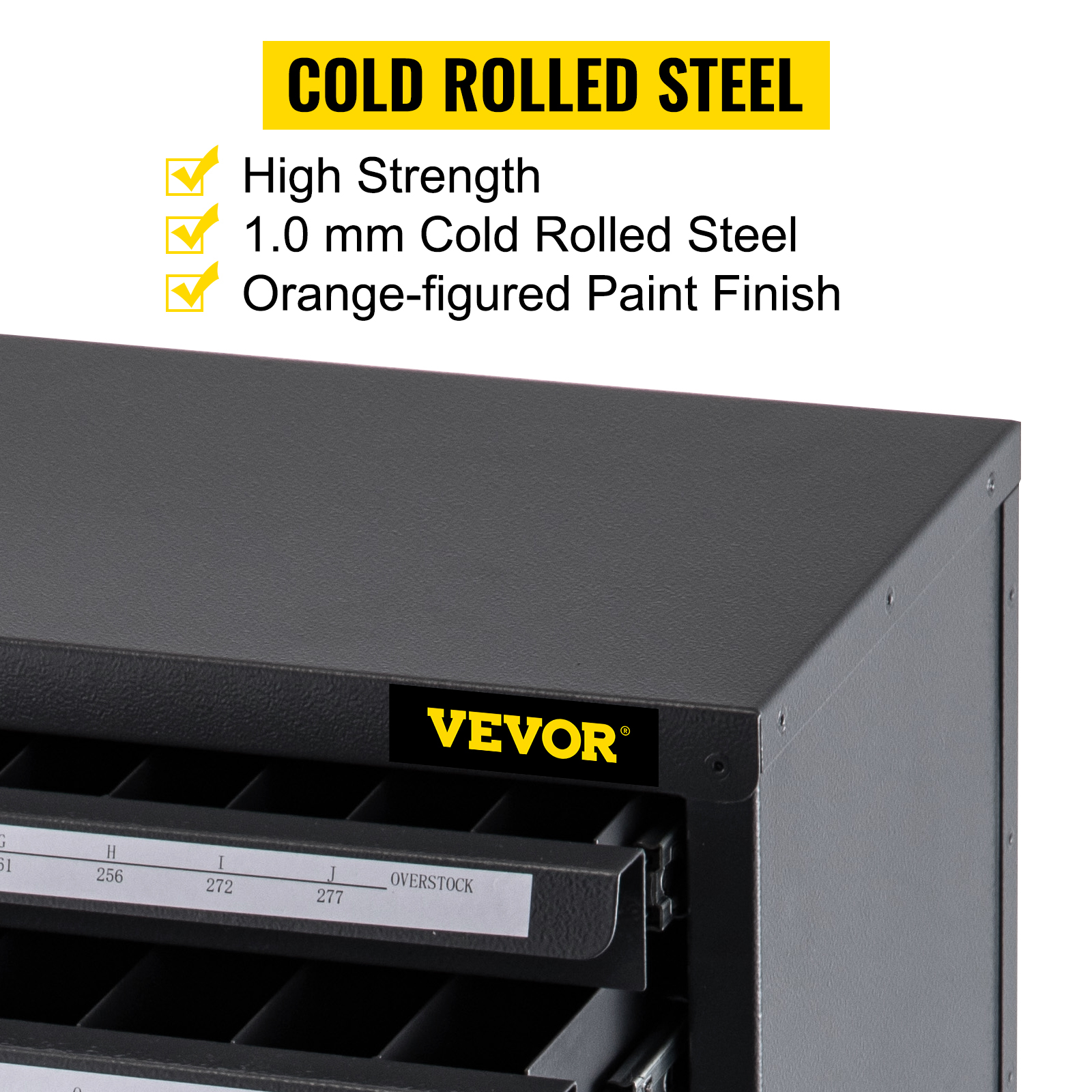 Our heavy-gauge fabricated steel cabinets and drawers are solid and durable. Made of 0.04"/1.0 mm cold rolled steel with an orange-figured paint finish, not easy to deform.
Smooth Usage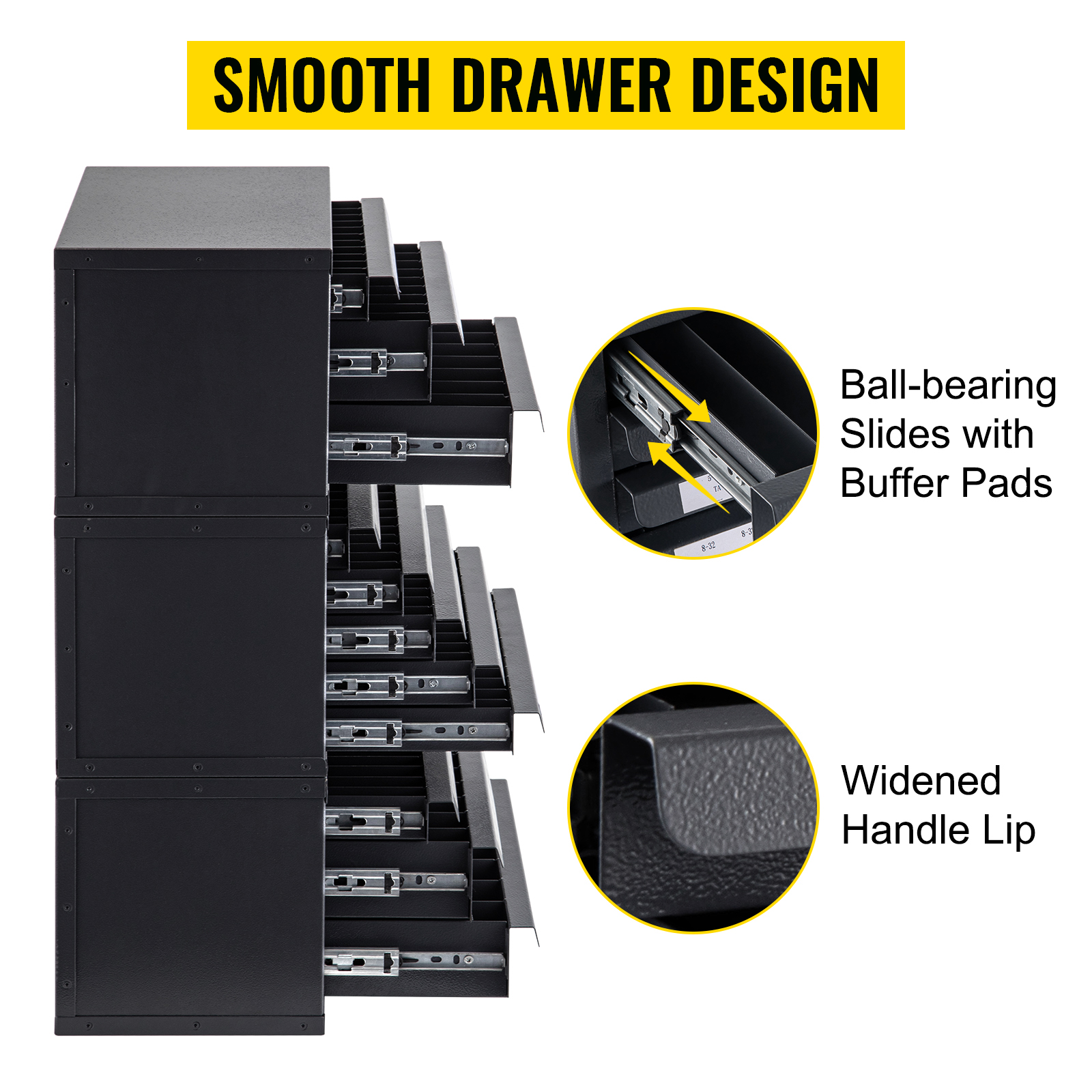 Easy-glide ball-bearing slides with buffers allow drawers to move in and out smoothly. Handle lips are widened for convenient push-pull.
Stack to Save Space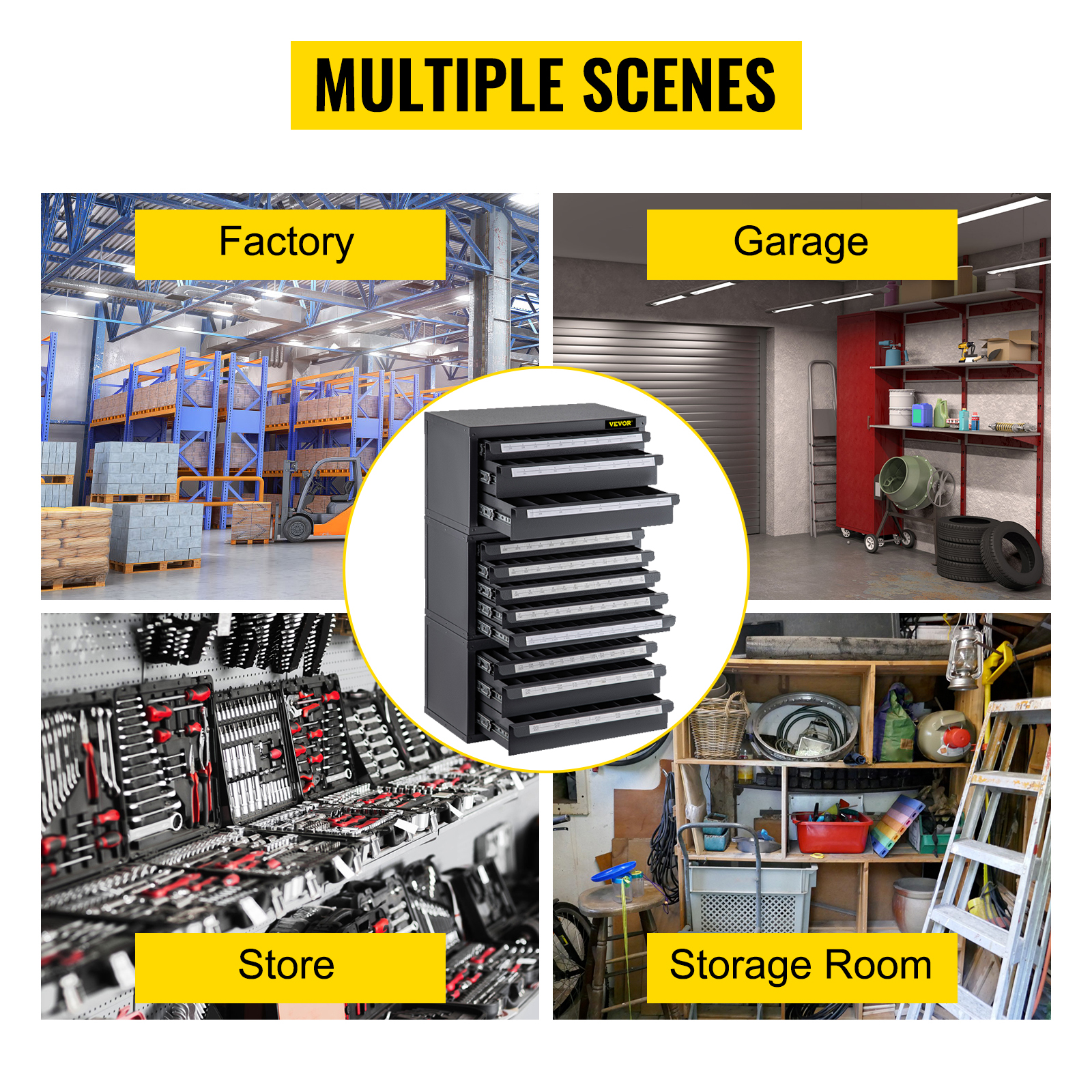 The stackable and modular drawers are a great choice. They can be used side-by-side or stacked to save counter space. 
Multiple Scenes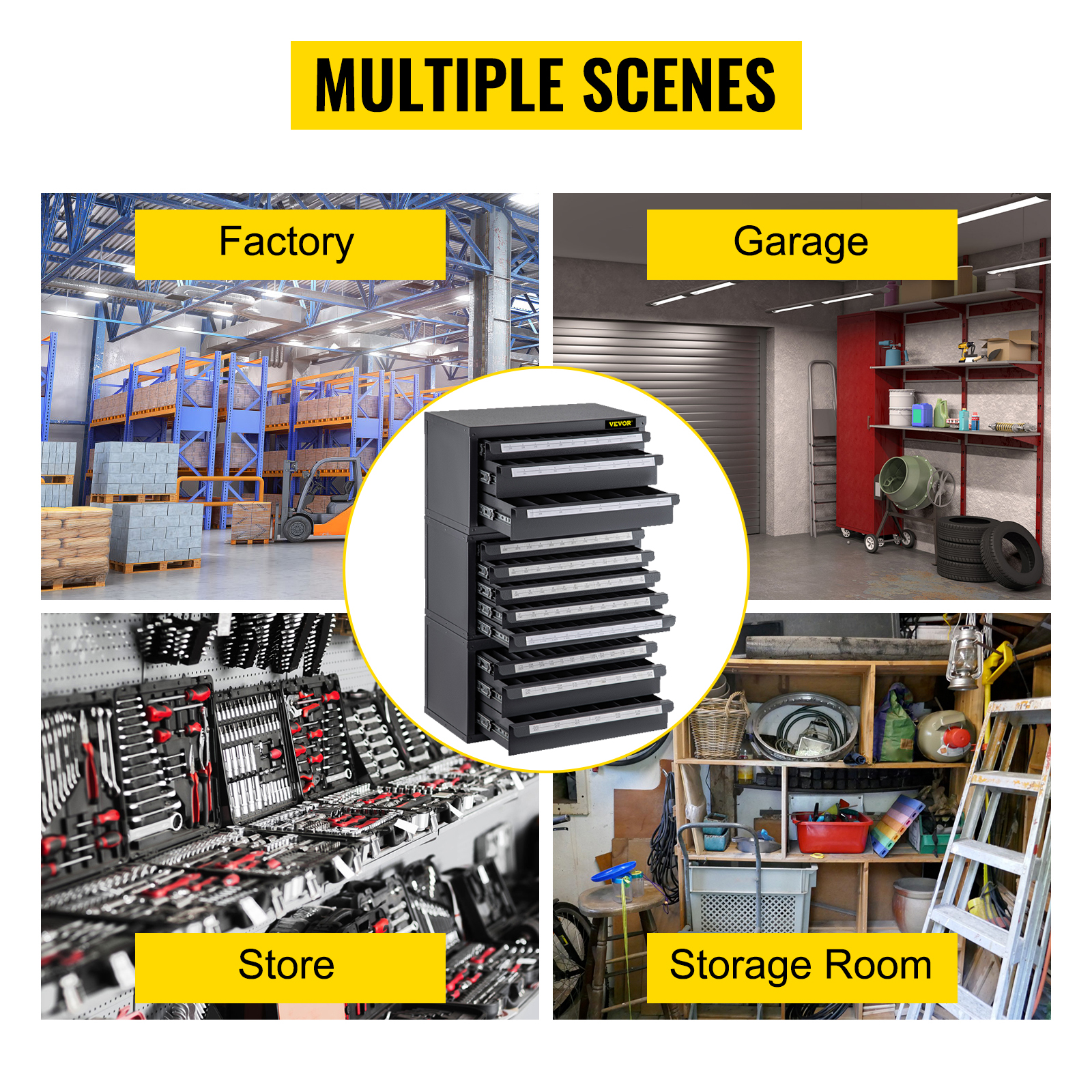 Our multi-functional storage is convenient and ultimate. It is excellent for organization and ideal for machine shops, maintenance departments, and general storage.
Type: Storage Drawers
Model Number: VV-DC-SJT35
Feature: Folding
Material: Metal
Use: TOOLS
Brand: VEVOR
Number of Drawers: 3 / 3 / 5
Number of Compartments: 29 / 27 / 60
Compartment Sizes: 1/16-1/2Inch / A to Z / #1-60
Material: Cold Rolled Steel
Label Size: 11.7 x 0.63Inch
Additional Blank Labels: 15
Item Size: 14.76 x 7.87 x 7.87Inch
Product Weight: 53.6 lbs
---